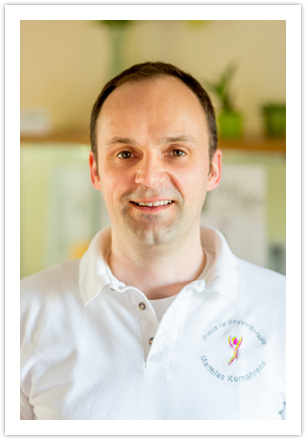 Matthias Kornahrens
I was born in 1968 in Bremervörde in northern Germany. My first experience with physical therapy was when I was a child due to my back problem. After completing my degree in Agricultural Science and gaining work experience, I decided to become a physiotherapist in 2003. Although at the beginning I was torn between two careers, later I learned to appreciate more the work of the physical therapist as it gives me opportunities to effectively help people to recover from their physical problems. I gained a lot of experience when I worked as a freelancer for a couple of years in various practices in and around Stuttgart. My exposure in different practices inspired me to design my own treatment room. Although my task applies specifically to treat physical symptoms, I also apply the holistic approach to my therapy which involves the mind and the soul. In my practice, I highly value each client by providing stress-free therapy with enough time for a personal consultation in a friendly and relaxing atmosphere.
My goal is to provide you a personalized treatment according to your health conditions that will achieve results such as: freedom from pain, increased mobility, improved coordination, relaxation, ability to manage household chores, and many more.
What I like:
In my leisure time I like sports, eat with friends, and I love to be in the countryside. I am grateful for my relationship with Jesus Christ and I am curious on what he has in store for me in the future.
Training
Certificate medical training / – Building Therapy (MTT/MAT) 05/2012
Certificate on physiotherapy devices (KGG), 11/2011
Certificate for manual therapists at the VPT Academy in Fellbach-Schmiden 2010
Certificate for treatment of adults after BOBATH concept (IBITA), 2008
Various certificates in the treatment of cranio mandibular and cranio facial pain syndromes at the Hannover Medical University (MHH) and the Association of Physical Therapist (VPT) Academy in Fellbach-Schmiden 2007
Certificate in Manual Lymphatic Drainage at Ulm College 2006
Wrote my thesis on Cranio Mandibular Dysfunction (CMD)
Physical therapy Studies at the Deutschen Angestellen Akademie (DAA) in Schwäbisch Gmünd, 2003-2006