Coupons
Surprise your loved ones and friends with a special gift certificate of a soothing massage.
A great get away from a busy life.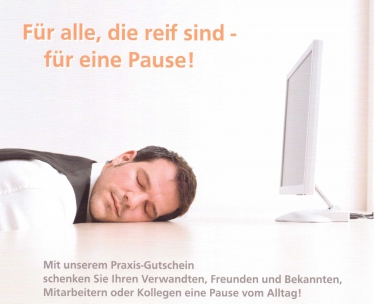 Classic Massage (25 Min. = 37,50,- €)
Relax from a busy week with a traditional and classic massage in a relaxing environment.
Goal: to loosen up the shoulder – neck and back, charging up energy
Classic – Massage Plus (50 Min. = 75,- €)
Massage is intensified with an additional application of a natural mud pack.
• PINO NATURAL SPA THERAPIE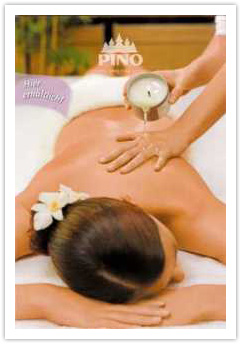 Candle-Massage (25 Min. = 45,- €)
Enjoy an exceptional smooth, warm, and pleasant massage with high-quality natural cosmetics and PINO massage candles in a relaxing atmosphere.
Goal: Reduce stress & muscular relaxation
Aromas:
♦ Wild Rose (calming)
♦ Honey Ginger (balancing)
♦ Orange Lemon Grass (activating)
• PINO NATURAL SPA THERAPIE
Candle Massage Plus (60 min = 95,- € p.P.)
Anticipate a massage that prepares and regenerates skin from exfoliation where dead skin cells will be removed by the application of the clear sea salt.
Goals: extra deep relaxation, mental solution – physical blockades
All types of massages (Classic or Spa) can be offered as a  simultaneously partner massage together with your spouse or friend. Please contact us previously.
Tip: You can combine the massage with a special dinner in a nearby indian restaurant (Namaste), 3 minutes walk.
• Craniosacral Therapy
60 Min. = 90,- € per Treatment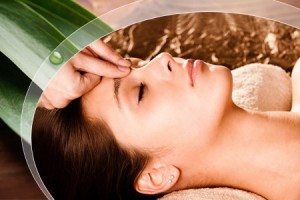 The Cranio-Sacral Therapy is a very gentle, non-invasive, non-manipulative technique of osteopathy.
It supports the self-healing powers of the body by promoting the Cranio-Sacral-Rhythm.
It also helps in the regulation of the parasympathetic (vagus nerve admirably) and thus promotes the ability to relax and reduce stress. Overall, the treatment causes an increase in vigor.
This is applied in areas such as
Stress-related pain of the back, neck, head, jaw and facial area, as well as
Ringing in the ears
Fatigue and
Burnout.